Google Guitar is one of the many great doodles Google created. In honour of Les Paul's, a popular guitarist and songwriter, 96th birthday, this tool was created to allow users to play melodies on a virtual guitar. Use this tool to serenade that special someone, compose background music to your vocals, de-stress after a busy day, or just to simply entertain yourself.
To access this tool: search "Google Guitar" on your Google search engine and choose the first result (This result should have the url: http://elgoog.im/guitar/).  This will redirect you to a new Google search engine. This new Google search engine has its Google logo rearranged to form a guitar shape. Typing various characters on your keyword will enable you to play different tunes on this virtual guitar. In addition to typing, you can strum over the guitar with your mouse to produce different sounds.
The Google guitar plays ten notes. The following picture demonstrates the different chords and its corresponding numerical value on your keyboard. It also shows the chords location on the guitar if you are strumming with your mouse.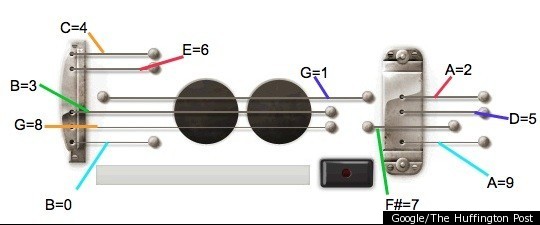 For this specific demo slam, Justin Bieber's hit song "Baby" was played using Google Guitar. The correct sequence of keyboard characters to play this song is the following:
Baby – Justin Bieber
Starting from: "You know you love me" 
G L J H J
G L J H
G L J H J
G L J H G
L L J H G
L L J H
GG H HJ HJ HJ HJH
G L J H J
L J H G
L H J GGHHG
G H J K K J J H G G H H G H H HHHHH J H G G H G
Chorus 
JH JH JH L
JJH JH JH ;
JJH JH JH L
HJHJ JJJ H H G